Beef & Vegetable Curry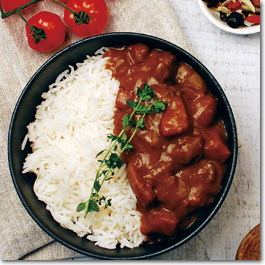 Fully cooked and thermo-stabilised in a sealed retort pouch.
2yrs shelf-life in ambient temperature.
Australia beef tenderly cooked with onion, potato, carrot, tomato, apple and chutney.
Spice profile is mild so that the flavour attracts a wide range of end users.
No preservatives used, just generous quantities of meat and vegetable contained. No need to add other ingredients. Just warm up and serve.
Perfect for bain marie serving in a range of food service and retail outlets.
Made in a factory in Japan that produces retort pouch products for over 30 years.
PACKING STYLE
4 x 3kg pouch (12kg/MC)
COOKING INSTRUCTIONS
Product is fully cooked. Just warm up and serve.